Latest Project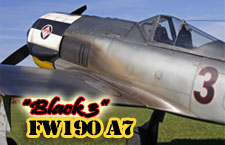 My latest project was an "FW190 A-7" built from a Jack Devine Models kit. Building began the last weekend of Jan 2006 and the maiden flight was conducted in the Fall of 2010. Be sure to check out my build site, "Black 3" to see how it all came together!.


My Latest RC Videos

"BOOM!" - 3D Montage Video
This is a compilation video that I did showing some flights over a few years with three of my favorite 3D planes.

"THIS IS THE SLAM!" - Yak 3D Parkflyer
This AirFoilz "Yak" product review page that I did for RCGroups.com/E-ZoneMag has my video at the bottom.

"GETAWAY CAR" - Stinger Pylon Racer
This was a video I did for the TopModel "Stinger" product review I did for RCUniverse.com

"BLACK 3" - Maiden Flight of FW190
This video shows the maiden flight of my 1/5 scale FW190 WWII Fighter... Not a pretty landing but still a success.

"41 SNIPER" - Fateful Maiden Flight of SBD
This video was of the only flight of my award-winning WWII SBD Dauntless... she will be sorely missed. :-(