Jan 27, 2006
Contents of the Jack Devine Models kit
The kit came to me in excellent condition, packed very well... no damage. Upon opening the box I began making sure everything was there and in good shape. Here's what I received...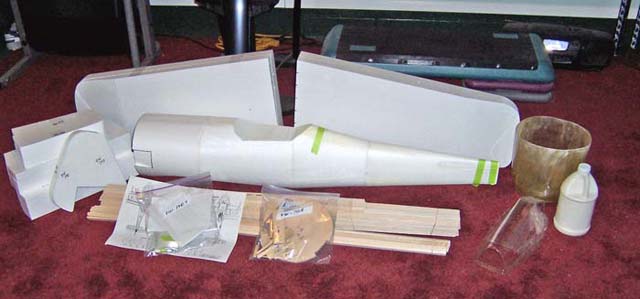 As you can see, the entire airfram is constructed of pre-cut styrofoam. The four sections of the fuselage are pre-assembled on the FW190 kit. The wing has two inboard and two outboard panels. The tail consists of one vertical fin & rudder piece, and two horizontal stab & elevator pieces. Also included is the balsa required for capping and sheeting. Plywood firewall and other hardwood pieces are included along with a collection of miscellaneous hardware such as Robart Hinge Points. A small piece of fiberglass cloth for the wing joint and a bottle of Foam Glue are also provided. Lastly you will find a clear canopy and fiberglass engine cowling.
Initial impressions
Any kit is going to have both good points and bad points, things that can be modified or even improved... no matter how good the kit is. I'll try to be objective in my initial impressions of the kit contents and save my final evaluation for after the plane has been built and flown. That being said, I'll have to say that the styrofoam components were of good quality and well cut. The balsa and other wood components also looked just fine. I was pleased to see the generous supply of glue included with the kit and the hinges will come in handy.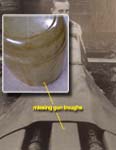 As for any negatives, I found just a few. First of all, I thought the canopy material was a little thin and didn't seem like it would hold up to much abuse... reinforcing it may be in order. Fortunately Jack provided 2 of them in my box, so I've got an extra in case I screw one up! Next was the cowl. It looked a little lower in quality than what I have experienced in the past, and quite "out of round" in shape. However I'm sure it will take shape fine when mounted and look great after painting. However, I was quite dissapointed to see that the two gun troughs on the top for the twin nose guns were not molded into the cowl. This is one of the key characteristics of the FW190 and will have to be manually modified the cowl for my satisfaction. Again, no big deal, but I really think the kit would be greatly improved with a more accurate cowl mold.
Lastly, I was surprised to find no instructions of any kind. I'm the kind of guy that goes step by step and relies heavily on detailed instructions, so this was a concern for me. Upon further investigation I found that Jack at one time was supplying an instructional video with his kits but had apparently run out of stock. The video was of the construction of a PT19 and covered the basic techniques to be used on all of his kits. The good news is that at the time of this writing, Jack was finishing up production on a new instructional video that will be produced as a DVD. That will be great as the content will be new and more up-to-date and a DVD is much easier to navigate than a VHS tape. Hopefully I can get my hands on one before I get too deep into this build.
I'm confident that I'll work through any weaknesses in the kit and will eventually find that any negatives are far outweighed by the positives. At this point I suspect those positives will include "ease of build, light weight, durability and great flying characteristics." We'll just have to wait and see! Next up, I finally begin the build by starting on the capping and sheeting of the tail section.